Wednesday's Korner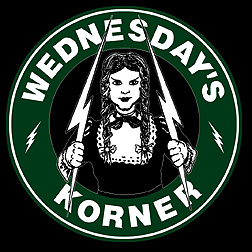 Created and maintained by Wednesday13
(The alter ego was created in 1997 and is NOT to be confused with the singer in Murder Dolls)
Logo by Allen Jaeger, Jr.
---
Wednesday's Korner is now being continued in a blog format so go here for updated links and information.

Imagine Wednesday Addams personified. Wednesday's Korner is not to be seen as strictly a tribute to the character created by Charles Addams, but more as an alter ego for a real person that happens to think and live the same way. She is as the verse describes: "Wednesday's child is full of woe." Christina Ricci's version of Wednesday Addams is a sufficient example of what Wednesday13, the Korner's author, is like.

Please email me and make me aware of your miserable existence.




---
Updated: December 30, 2010
Wednesday13 would cease to keep up the Korner without your support. Your comments really matter.
---
Wednesday's favorite first lines. The title of the piece follows each line.

Roger L. Jackson, Voice of Mojo Jojo (Powerpuff Girls) and the Voice from the Scream movies
hint: you're gripping the chair with fear when you hear his voice on the telephone in the movies Scream, Scream 2 and Scream 3.
Unusual Places to Visit in Our Typical World