Wednesday's Korner is now being continued in a blog format so go here for updated links and information.

Wednesday's Korner
presents the show posters designed, drawn and silkscreened
by Allen Jaeger, Jr.

Allen Jaeger, Jr. has been drawing and painting all his life. His heroes range from Vincent Price to horror comic book artist Bernie Wrightson. Allen's enthusiasm is endless, using his talents for up-and-coming bands as well as established performers, while at the same time being faithful to the bands that he supported from the beginning. All of Allen's posters begin with images found in the music itself. He takes full responsibility for inventing and mixing his colors as well as separating colors by hand in the silkscreening process. Though most of his work looks best in black light, lately his art has evolved into a darker color scheme, perfect for the doom and gloom music afficionados.

Allen is very disciplined when it comes to work, but if he has any free time, he enjoys showing guests of his fine home the obscure and strange sites hidden within greater New Orleans. He's also an avid action figure collector, especially of Spawn and Star Wars. Probably the best times are had on the road with industrial/metal bands on their southeast tour dates. In the end, all of his experiences contribute in one way or another to creating his magnificent poster art.

Below you will see thumbnails which you can click on for a larger version. These are not all of Allen's posters, in fact he has many more for various shows including Skinny Puppy tour 2004, Chris Connelly, Prong, Pantera, Danzig, Type O Negative, Marilyn Manson, White Zombie, Chemlab, Killing Joke, Foetus and Godflesh.

Allen also has his own site where you can see new artwork. You can email Allen for more information about how you can own one of his original silkscreens. He only prints a limited number, but they're very affordable...they cost about the same or less than a CD. Purchasing one of his pieces will help him further his career. If you are a club booker or in a band, you may also inquire about hiring Allen to design and silkscreen posters for upcoming shows or a full tour as well as merchandise (t-shirts, patches, caps, chain wallets, etc).



Posters from 1999

Love and Rockets/Orgy
13" x 28"
9 colors

Slayer/Sick Of It All/Messugah
12" x 22"
5 colors

Limited to less than 100 posters left:
Anne Rice's Vampire Lestat Ball

These are the commemorative posters from Anne Rice's annual Halloween event put together by Rice and her fan club. Here's Allen's Anne Rice Halloween Ball poster for 1999.
Allen was also responsible for making posters for the events which took place

October 31, 1998
and
November 1, 1997.

It must be emphasized that the 1998 Anne Rice Akashic Ball took place in a masonic temple, therefore the poster includes secret masonic symbols. There are two versions of the poster; each based on the Queen vampire, Akasha, one with her flesh on her head and one with her skull bared, complete with fangs. The gold paint border reflects light and, at certain angles, the words are invisible.

Allen pictured with Anne Rice


Bauhaus
nearly sold out

Tricky touring with Stroke and DJ Genaside (October 7, 1999)
Tricky (August 1, 1998)

Prodigy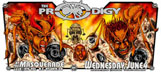 Prodigy with Meat Beat Manifesto
The Misfits with H20
Plus, as of March 1999, new t-shirt designs for The Misfits are available.
Ministry/Drain S.T.H. (August 31, 1999)
Ministry/Young Gods
17-1/2" x 23"
8 colors


Download
13" x 23"
at least 5 colors


House of Shock
11-1/2" x 17-1/2"
7 colors


During the Halloween season, Allen helps decorate and perform in the House of Shock as Eihwaz as seen recently on VH1's 100 Most Metal Moments!

Allen's latest Goodies for Sale (mention you spotted these on Wednesday's Korner!):

---
HOME