Wednesday's Korner is now being continued in a blog format so go here for updated links and information.

Wednesday's Korner

presents

Movie Recommendations
---
"He was the most remarkable dead body I've ever seen. And I've worked with one or two in my lifetime." -- Lynn Redgrave, on Sir Ian McKellen, her Gods and Monsters co-star.

---

Movie of the Month:

---

Fahrenheit 9/11

---
Dr. Strangelove or How I Learned to Stop Worrying and Love the Bomb
Commentary on the film

Red Alert is the Basis for Dr. Strangelove
---
Monster, starring Charlize Theron, Christina Ricci, and Bruce Dern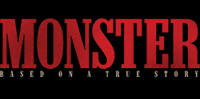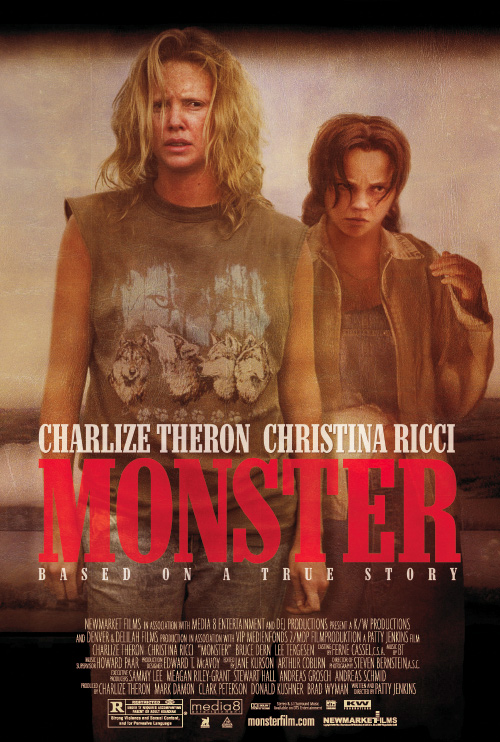 film Aileen Wuornos: The Life of a Serial Killer is reviewed

---

Buy or Rent the HOME VIDEO:
starring
Elizabeth Daily
Tara Strong
Cathy Cavadini
Tom Kane
Tom Kenny
and Roger L. Jackson as the evil villain, Mojo Jojo.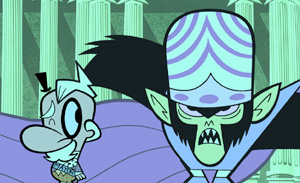 Reviews: NY Times, San Francisco Chronicle, LA Times, Salon
---

SEE ALL RELEASE DATES for movies coming out soon.

Fangoria fans: the latest entertaining horror

---
Films to watch for in the future, near and far:
Borgia -- Christina Ricci stars as Lucrezia Borgia
Charged: The Life of Nikola Tesla
On DVD: Hellboy directed by Guillermo del Toro (The Devil's Backbone)
Prozac Nation directed by Erik Skjoldbjærg (Insomnia/1997); Lou Reed plays himself. Michele Williams also stars. Other than Chrisina Ricci and Michele Williams, the movie also stars Jonathan Rhys-Meyers, Jason Biggs, Jessica Lange and Anne Heche.
The Speed Queen based on the novel by Stewart O'Nan; it's a Christina Ricci film -- she's starring, directing and producing.
The Tulse Luper Suitcase by Peter Greenaway. Here he discusses the project.
The Water Warriors (Spring 2005)
Willard starring Crispin Glover. It is a remake of the 1971 Willard that starred Bruce Davison.
---
Films from the 44th San Francisco International Film Festival

---
Fans of Christina Ricci take note: Ricci's production company, Blaspheme Films, is making a movie called Adrenalynn. Ricci stars as Adrenalynn, a post-Cold War orphan who's half human and half cyborg. It's still "in production". Check the Comics2Film site periodically for updates.
---

Pumpkin is in video stores now. Perky, perfect Carolyn (Christina Ricci) and her Alpha Omega Pi sisters plan to win Sorority of the Year by impressing the Greek Council with a killer charity: coaching mentally challenged athletes for the regional Challenged Games. When Carolyn's assigned to coach Pumpkin she's terrified at first, but soon sees in him something she's never seen before: a gentle humanity and honest clarity that touches her soul. To the horror of her friends and Pumpkin's overprotective mother, Carolyn falls in love, becoming an outcast in the process. As Carolyn's "perfect life" falls apart, Pumpkin teaches her that perfect isn't always perfect after all. (courtesy of Press Kit)

Ricci's film Prozac NationThe Salon interview with Christina Ricci discusses making The Man Who Cried which also stars Cate Blanchett, Johnny Depp and John Turturro. Here are some recent pictures of Christina Ricci in Movieline and this site lists some of the films she has planned with her production company.

What are her box office stats?
---

Addams Family Values
Can't giveaway all the great quotes. This is far superior than the first movie. Wednesday uses a guillotine as if it's a common, household appliance. Also, lots of fun with electrocution devices. Be afraid.
Raul Julia's voice is preserved in the Addams Family pinball machine
---
Tim Burton Collective: articles, images, and more

---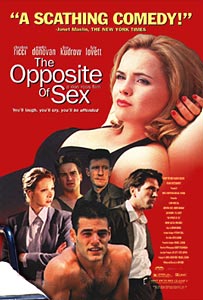 Director and writer Don Roos purposely made The Opposite of Sex, politically incorrect which is why I liked it so much. The Sony Pictures Classics site hints at Dedee Truitt's (Christina Ricci) snappy-sarcastic attitude. Roos talked about Ricci's acting at the 1998 San Francisco International Film Festival screening: "Christina is so non-method. She's a film actress...I could never tell if she was doing anything. I'd ask her, 'Is that all you're going to do?' and she'd say, 'Oh, it'll be fine, you'll see.' She was a real learning experience." As with her role as Lucy in Fear and Loathing in Las Vegas, you don't get to see Christina Ricci enough though her performance shines whenever she's present on screen.

Wednesday's Korner knew Christina Ricci was "it" long before Entertainment Weekly picked Christina Ricci as one of the 100 people who are "it" and why exactly is she "it"?..."Although you can still see Wednesday's duplicitously curled sweetheart lips and intense, steely eyes in Ricci's face, she's successfully guillotined her precocious child-star image with three sexually promiscuous and serenely well-acted turns in The Ice Storm, The Opposite of Sex,and Buffalo 66. (Morticia and Gomez would be so proud.)" That stuff about her "sweetheart lips" is pretty sappy, but behind those lips are a pair of choppers that can snap a finger off faster than a piranha... That's our Wednesday!
---
Buffalo 66 was another treat at the 1998 San Francisco International Film Festival. Two of my favorite actors, Vincent Gallo and Christina Ricci, star in Gallo's directorial debut. Ricci admits that this film is a first where she isn't sarcastic. Angelica Huston is so great I didn't even recognize her as the mom. It's a black comedy; what else could be funnier than watching a man go for what seems like fifteen minutes without being able to find a place to "go"... I nearly pee'd in my pants watching the intro. Ricci also tap dances?! So much comes through in a moment where there's, literally, a spotlight on Ricci... honesty, vulnerability and sexiness in one, completely unedited scene.

She also stars in 200 Cigarettes, Desert Blue and John Waters' Pecker.

Ricci also did a film called I Woke Up Early the Day I Died

"I read my interviews and think, 'Oh, God! I'm not like that! This is so embarrassing!' People must think I'm gross, slutty, and, like, dirty... Sometimes I think I have Tourette's Syndrome. I'll read something I've said and think, 'Why the hell did I say that?'" -- Christina Ricci on fame.


Watch for Christina Ricci on television

---

If you hate subtitles, but love the exquisite, unique stories that come with foreign films then go see Tuvalu. It's now on DVD.

The award-winning director Veit Helmer made this movie without any dialogue, although the actors do vocalize sounds and other sounds in the film are beautifully perfect. It was photographed in black and white and then tinted in rich colors. It was filmed in Sofia, Bulgaria and the director's best footage involves scenes in a ships' graveyard and also the use of demolition machines. There is an excellent soundtrack as well by one of the leading German film-composers, Jürgen Knieper.

The story revolves around lonely Anton (Denis Lavant) attending to an old public swimming pool situated in the middle of a wasteland. He spend his days dreaming of a life at sea and tricking his blind father into thinking the run-down baths are crowded with customers. His dreams are shared by Eva who brings vitality and life into Anton's world. Anton's greedy brother Gregor wants to close down the bath to make room for a new development which Anton tries to resist to save his father's pride and joy.

If you like Buster Keaton, you will enjoy this film. If you care about the playground you used to play in that is now being turned into a parking lot, you will never forget this film.

---
The Independent
is a mockumentary directed by
Stephen Kessler
. Look for it in theatres after November 30. It stars
Jerry Stiller
as Morty Fineman, director who wants to finish his 427th feature film called
Ms. Kevorkian
.
Janeane Garafalo
plays Morty's daughter Paloma. "Stiller strikes the perfect balance between monomaniacal insanity and spontaneous compassion as Morty, who feels the pain of bald men enough to make the anti-hair action film
Bald Justice
." - Michael Hogan for
Vanity Fair
---

The Crow: Wicked Prayer (starring
Edward Furlong
, Dennis Hopper, David Boreanaz and Macy Gray)

check out the poster
---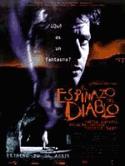 The Devil's Backbone or El Espinazo del Diablo is directed by Gulliermo del Toro who also directed Cronos and Mimic and is set to direct Blade 2 and Hellboy. "Less excessive and more atmospheric than del Toro's earlier films, The Devil's Backbone is bathed in an amber light that burnishes the image to a fine surface gloss. Its agenda is ambitious. Del Toro's screenplay is a discomfiting mix of gothic thriller, boy's adventure story, and political allegory." - J. Hoberman for The Village Voice.
---

Wednesday13's favorite RUPERT EVERETT character is Francesco Dellamorte in CEMETERY MAN
Forever Everett--The Rupert Everett Page
Fans of Michele Soavi should take note that he is going to direct GOODBYE LOVE HELLO or ARRIVEDERCI AMORE, CIAO based on the story by Massimo Carlotto. The story of a criminal career. The story of a man with no morals, no scruples. Thief, killer, traitor. He betrays his friends, his women. No afterthoughts. Until he meets her...
---
Joe Dallesandro
has similar chiseled good looks but perhaps maybe not the same level of acting quality as Rupert Everett. Dallesandro starred in several films produced by
Andy Warhol
, directed by
Paul Morrissey
.
Now available on DVD with audio commentary by Paul Morrissey and Udo Kier: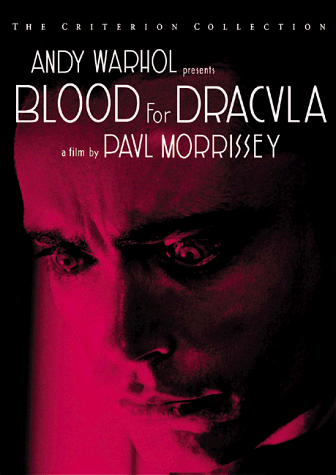 ---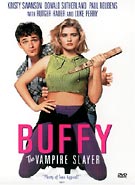 Nearly every review praises Paul Reubens whose vampire role in the movie is unforgettable.
---


Werner Herzog's Nosferatu, The Vampyre or Phantom der Nacht is available on DVD and contains an excellent audio commentary from Herzog himself. Fans of My Best Fiend, a documentary on Herzog's experience directing Klaus Kinski, will enjoy this DVD edition.
---
Shadow of the Vampire stars Willem Dafoe as Max Schreck and John Malkovich as the filmmaker F.W. Murnau.


Dafoe is one of the many stars featured on Vail Reese's site: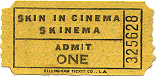 Dermatology in the Cinema
---
Chronological Index to Vampires on Film and Television
---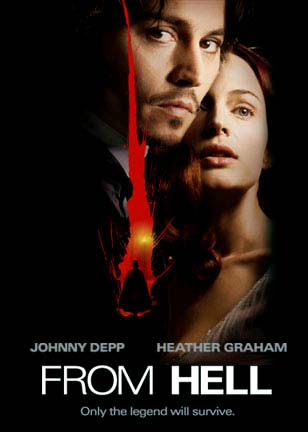 Ian Holm is Sir William Gull
Is there any truth to the conspiracy surrounding Masonic ritual murders?
From Hell is directed by the Hughes Brothers and is reviewed by the Village Voice with

---
There will be a director's cut of Donnie Darko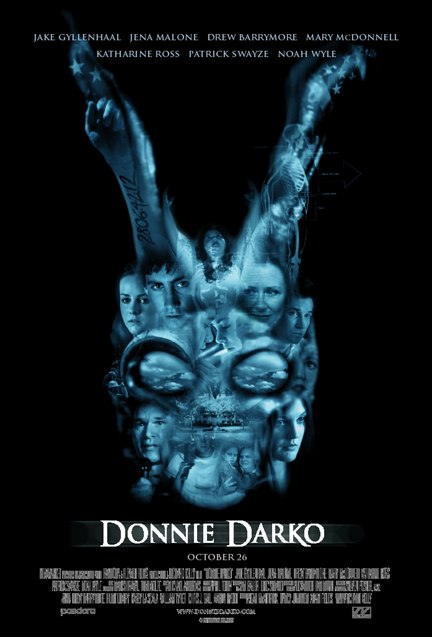 ---


Directed by Ridley Scott, Legend is a film that deserves a Director's Cut.
---
Gillian Anderson fans should see The House of Mirth
read the reviews: REVIEW ON SALON
REVIEW IN SAN FRANCISCO CHRONICLE
---
The American Nightmare
---
from the creators of American Movie... 0tv

---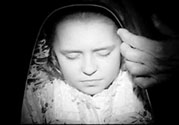 Wisconsin Death Trip, a documentary-style film by James Marsh, played at the San Francisco International Film in 2000.
Official Site for Wisconsin Death Trip
James Marsh also made another documentary The Last Supper, a film about the last meals of death row inmates.
Also by James Marsh: "The Burger and The King: The Life and Cuisine of Elvis Presley"
---
An interview with, Thora Birch, the actress who played the morose teenage daughter, Jane Burnham, in American Beauty.
---
---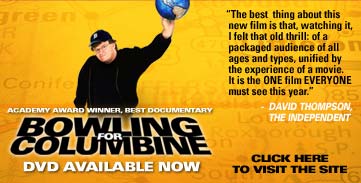 ---
Rosie: The Devil In My Head
Interview with writer/director Patrice Toye
---
The Dreamlife of Angels. A film by Erick Zonca (France). Moment to moment the lives in this story compell you to reach out and hold them, care for them and not let them ever feel stranded again.
---
Shot ThroughThe Heart is now available from HBO Home Video. Here is my account upon first seeing the movie.
---
Go is a dark comedy for people into the rave-clubbing scene and laughing at the carelessness of today's young generation.
---
IndieWIRE's interview with Todd Haynes
Director Todd Haynes creates a lusciously stylized piece of cinema. Brian Slade (Jonathan Rhys Meyers) is modeled after Ziggy Stardust and Curt Wild (Ewan McGregor) after Iggy Pop. David Bowie got the idea for Ziggy Stardust by a real life performer, Vince Taylor. Wednesday13 has one soft spot and that's for the early days of glam rock, beginning with David Bowie, Iggy Pop, and Lou Reed, followed by T-REX, Roxy Music, Eno, and Bryan Ferry.
---
Midnight Madness Rampages on with Killers
---
Love Triangles, Talking Severed Heads, Blood-Sucking Babies, and Rat Poison Galore -- Korea's Forgotten New Wave
---
Writer and Director of The Governess, Sandra Goldbacher, speaks with IndieWire about the costumes and photography in the movie. It's an excellent period piece set in 1840s London. Minnie Driver delivers a genuine performance in a lush, gothic setting.
---

---


Nightwatch -- It'll be the last time you can see Ewan McGregor in a low-budget film and probably the last time anyone will mistake him for a serial killer...or are they mistaken?
---


Universal Pictures distributes Stuart Gordon's Space Truckers starring Dennis Hopper in a rare performance as the "good" guy.

Stuart Gordon appeared at San Francisco's Castro Theater for the Classically Independent Film Festival. He said that he got the idea for the story when he was driving along the highway one night with just him and the stars above. Every once in a while a trailer truck would pass by and it reminded him of a spaceship. He got to thinking that the job of driving one of those trucks isn't going to change much in the future; they'll be transporting goods back and forth from outer space.

Gordon pulls from some of the best sci-fi flicks and leaves out all the predictability. Don't miss this on the big screen. And to John Mueller's Oink fans, there's a special scene at the beginning just for you.
---

---
---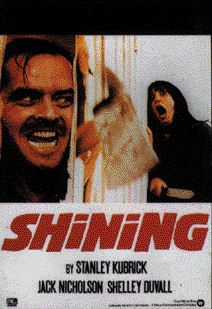 The Shining directed by Stanley Kubrick
---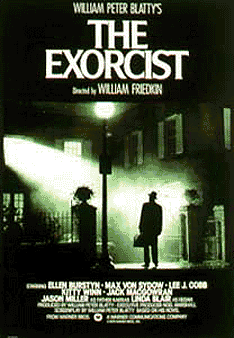 The Exorcist directed by William Friedkin
---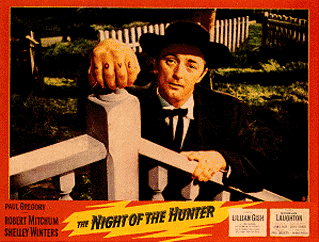 Night of the Hunter directed by Charles Laughton and starring Robert Mitchum
---
Frances Farmer
Psychiatry Manipulating Creativity
---
Hauntings surrounding Hollywood
---
Crash: the Re-invention of Lust
---
Retracing James Dean's Last Ride
---
For fans of Icelandic filmmakers, go to the travel page on this site.
---
Interviews: Roger L. Jackson: Voice Actor/Star of The Powerpuff Girls Movie, Scream, Scream 2 and Scream 3
ATTENTION: fans of Roger Jackson should be aware that another actor is claiming that they are the voice in the Scream movies. Do NOT mistake the actor Quinn Smith as the voice. He may say that he is Roger L. Jackson, but he really is an impersonator. Roger L. Jackson very rarely makes public appearances. Please email Wednesday13 if you see or know of anyone committing such fraud on Roger L. Jackson.
---
Famous Muppets - Profiles
---
"Cinemuck, n.: The combination of popcorn, soda, and melted chocolate which covers the floors of movie theaters." - Sniglets


---
Wednesday13 encourages her readers to consider helping one of her favorite non-profit organizations, The Roar Foundation's Shambala Preserve run by Tippi Hedren. The Addams Family show #60 called "Cat Addams" featured a lion in the episode. Many big cats that work in the entertainment industry retire at the Shambala Preserve where they can be cared for and protected. Big cats cannot be released back into the wild because they have been trained to work with humans and do not have the skills to hunt for their survival. Also, exotic cats are illegally bred and sold in the US to people who think they would make great pets. This results in them growing into unmanageable carnivores and becoming a danger to the owners. Ultimately these animals are either euthanized by their owners, handed over to some local or state authority where they are usually put to sleep, or sent to "canned hunt" farms which are legal in many states. Neither of these choices are fair to the animal who is only here because the greedy breeder wants to make a great deal of money by selling animals to an unsuspecting public, and misrepresenting the animals' adaptability to the human world. The lucky ones go to a sanctuary where there is no breeding, buying or selling of these unfortunate beings, where they will live out their lives.
12 Things You Can Do to prevent cruelty to animals
---
---
Tell the Korner about a movie