Wednesday's Korner is now being continued in a blog format so go here for updated links and information.

Wednesday's Korner
presents
Fiendish Reading Material

---
Wednesday's Korner claims no responsibility for the content contained in the links referenced on this page.
---
---
Hunter S. Thompson tells us to prepare for weirdness in this great article reflecting on the year 2000.
---
Linguist Geoffrey Nunberg looks at the word, "evil". (RealAudio)
---

Underground Online features content in the following categories: animation, music, games, sports, tech, TV & film and freestyle where you can shop, play games, listen to music, watch video clips and catch up on the latest in entertainment news.
---
---
---
---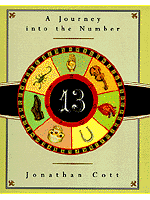 Thirteen: A Journey into the Number by Jonathan Cott (Doubleday)
My favorite section of the book: "The 13 House" which is about the Winchester Mystery House in San Jose, California owned by Sarah L. Winchester, the rifle heiress. A medium told her that the spirits who were killed by the rifles her family manufactured were retaliating and taking her loved ones' lives as revenge. The spirits placed a curse on Sarah and she was instructed to move west and set up fort, rather, house and building on it according to the spirits' wishes. The book lists 18 references to the number 13's association with the houses configurations. For example, "13 blue and amber stones in the spiderweb window"... this is a must-see along with "13 hooks in the Seance Room" and "13 rails by the spy hole in the South Conservatory." Sounds like a future field trip for the Korner.
The book also raises questions about the 13th astrological sign and the reference to 13 in tarot cards. An excellent reference to have on hand.
---
Books filed under Wonders and Curiosities
---
Passage of Darkness : The Ethnobiology of the Haitian Zombie by Wade Davis, Richard E. Schultes, Robert F. Thompson
also read



The Serpent and the Rainbow by Wade Davis
enlarge cover
---
Earth Mysteries: the study of ancient sites
---
Science-Fiction/Fantasy Writer A. A. Attanasio--the Home Page
---


Surrender on Demand

by Varian Fry

The Dramatic Story of the Underground Organization Set Up by Americans in France to Rescue Cultural and Political Refugees from the Gestapo
---
One Hundred Years of Solitude
---
Bloodline and other short stories by Marta
---
Eros in Exile by Leilah Wendell is as a Limited Edition Only! So, those of your interested in obtaining a copy of this book are urged to send in your orders today to buy it at the special Azrael Project News readers price of $15.00 per copy (includes Domestic Priority Shipping upon publication, overseas, please add $5.00). The first 100 will be signed and numbered by the author!
---

Healing Grief by James Van Praagh

---
Poppy Z. Brite
---
Tim Burton's "Vincent"
---

Listed on this page is The Evil in Asheville by Joshua P. Warren
---


John Shirley's Black Butterflies
cover art by John Bergin
The Fox and the Hedgehog
article on David J. Schow and John Shirley
---


The Crow: Shattered Lives and Broken Dreams
An excerpt by John Shirley
---
Buried Alive: The Terrifying History of Our Most Primal Fear by Jan Bondeson

listen to the conversation with Jan Bondeson on Art Bell's Coast to Coast with Ian Punnett from April 1, 2001
---

Best of H.P. Lovecraft: Bloodcurdling Tales of Horror and the Macabre
enlarge cover
---


Nancy A. Collins
A Dozen Black Roses
---
The Vampire Armand : The Vampire Chronicles by Anne Rice
---
Dorothy Parker
Selected Poems by Dorothy Parker
Dorothy Parker photo gallery photos of where Dorothy Parked lived, audio clips of Parker reading, info on Parkerfest--an annual event
Arrangement in Black & White read by Tyne Daly
Excuse my dust or what happened to Dorothy Parker's ashes?
"That Dorothy Parker" a play by Carol Lempert
Prince's Ballad for Dorothy Parker (in English and Spanish)
Another song about Dorothy Parker by Garage
---
Aphorisms: Happiness and Misery
Aphorisms: Altruism and Cynicism
---
All the articles below were found online in Salon Magazine
Not-so-basic reviews and interviews, plus a few other links to help you maintain that pus-filled, zombie state of mind.
Marilyn Hanson
When the antichrist arrives, he won't be a Goth Rocker -- he'll be a three-headed blonde.
"Who Killed Kurt Cobain?" and other unauthorized "mysteries."
Nancy Friday on beauty, witches and good manners in bed.
Part 1--Stories of Vladimir Nabokov
Part 2-- Stories of Vladimir Nabokov
"Staggering our certainties" about humanity's place at the top of the heap
The Salon Interview with Stephen Jay Gould
The eminent essayist and paleontologist talks about his new "Full House," the fallacy of evolutionary progress, creationism and extraterrestrial life.
The Salon Interview with William Gibson
The author of "Neuromancer" on the joys of the Web, artificial celebrities and his new novel, "Idoru."
The Canonization of Hunter Thompson
The Salon Interview with James Ellroy
Oedipus Wreck. The author of "My Dark Places" on the search for his mother's killer, the stupidity of hard-boiled detective stories, and why he hates rock 'n' roll.
Shirley Jackson: Monstrous Acts
A new collection of unpublished stories reveals both sides of the strange, luminous writer who created "The Lottery."
Margaret Atwood on famous Victorian murderesses, her claim to Connecticut, and the deep satisfaction of a clean, folded towel.
Before you kill yourself, M. Scott Peck argues, try killing your ego.
Suicide Isn't Painless
Death guru Stephen Levine wants to legalize assisted suicide -- but only for physical reasons. In other situations, taking one's life is just impatient, sloppy, a "shortcut."
J.G. Ballard on William S. Burroughs' "Naked truth"
The K Chronicles: A new strip every Wednesday
---